How are your customers using Voice Assistants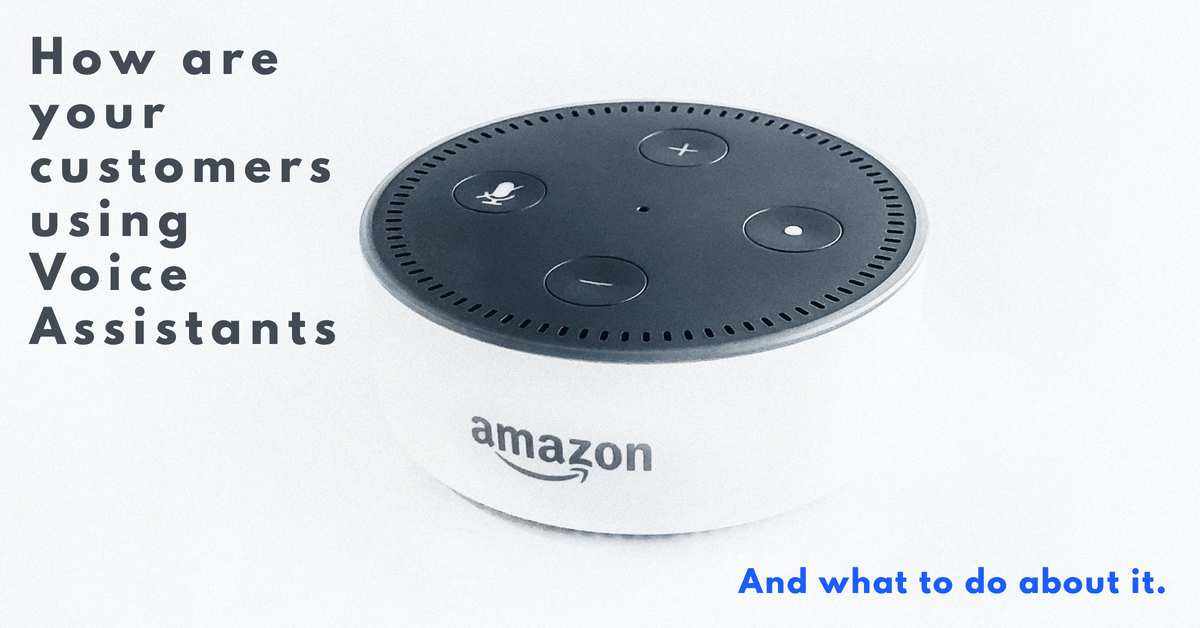 Customers are looking for new convenient and entertaining ways to spend their time. Voice assistants are becoming ubiquitous and trending quickly; these devices range from smart displays, smart speakers, mobile phones, tablets to cars, wearables and even microwave ovens. This article presents the most common ways your customers are using these devices and how your business can leverage this opportunity.
Smart home or conversational experience?
First, let's separate the 2 common usages. Voice activated applications can be grouped into 2 major segments:
(1) Smart home, home-office or office activities
Manage IoT devices such as smart light bulbs, air conditioning, garage doors, coffee machines, etc. from your voice-activated device. For instance, Hey Google, turn the lights off.
(2) Conversational experiences
Provide voice applications based on interactive content, video, games, facts, etc. These type of applications rely on other services usually API based, databases for rich content persistence, images if using a smart display, pre-recorded audios and a wide range of techniques to deliver a high quality experience.

Your customers are accessing these devices for different reasons. Some of them are:
Some of these devices come with built-in video conferencing capabilities, and it can be combined in a routine to dim the lights or make the call. With a visual display, it can be integrated to display your documents or PowerPoint presentations.
One example is Alexa for business which simplifies meeting room experiences for your employees. You can control conferencing systems, check room availability, and book rooms with just your voice. [1]
Play music or tune in the radio
Voice-activated assistants act as a personal DJ connecting to music services such as Spotify, SoundCloud, Tidal, TuneIn among others [2]. Once integrated, users can ask for playlists or a particular song. Majority of these services work on a freemium basis; providing some basic functionality for free and premium available.
Playing the news and podcasts is popular in these devices. They can be combined with routines so if you say "good morning", then it can inform the weather and combine it with your morning news. [3]
Depending on the device, it can also play videos coming from Netflix, YouTube or a particular skill. Alternatively, it can instruct to play it on your TV if integrated.
Smartphone distractions while driving contribute nearly a quarter of crashes. In these cases, the driver was using a phone within a minute before the crash occurred, and perhaps even at the moment of the crash. [4]
With your phone sitting on the seat or centre console, say, "Hey Siri, where's the nearest gas station?" or, "Hey Google, give me directions to Antigua."
In many cases, the content your customers want to access is actually written in a website; such as blog, recipes, wikipedia, etc. Having your website ready to be readable can give your business an edge on the voice-activated race.
This is a demanding feature for websites, that in some cases require some modifications to the content in order to be found and consumed easily. However, websites don't need to do anything special to enable this functionality. You simply ask "Hey Google, read this page". [5]
Answer all sort of questions and queries
Voice-activated devices can answer all sort of questions and queries in a reliable way. Frequently Asked Questions (FAQs) can be presented in a conversational interface and offer better results for your customers. And then provide a way to relate to your business.
Let's assume you are a dentist and you want to have an automated way to pick up appointments automatically 24/7. Voice applications can integrate to calendars, existing appointment systems, and set reminders. [6]
These devices allow you to make phone calls; so your business voice application can provide a direct call option, removing friction. [7]
How can your business leverage these opportunities?
There are several ways that your business and your brands can leverage these devices and their capabilities to join existing customer journeys or to develop new ones.
Each of the different touchpoints contribute to your customers experience and these skills should be part of a whole strategy and fit accordingly.
If you care about getting new customers or retaining existing ones, voice applications can give a competitive advantage to your business.
If you want to understand more about the described opportunities, please contact us.
[1] Amazon Alexa for business. Meeting room experience
[2] Google Assistant help. Listen to music.
[3] Amazon Alexa. Create Alexa Routines for Smart Devices.
[4] The Washington Post. More evidence that smartphones and driving don't mix.
[5] Google Assistant help. Easier access to web pages: Ask Google Assistant to read it aloud.
[6] Google Assistant help. Create calendar events & ask about your schedule.
[7] Amazon Alexa. Make Alexa Calls with Your Voice.
Tags:
Artificial Intelligence
,
customer journey
,
Digital Marketing
,
Voice Assistant